Whether your scarf is red, white or blue, you should be concerned for the sustainable future of Football.
Shockingly high figures of cash are being thrown around the football sphere with careless disregard whilst smaller clubs fold under the pressure. We've seen Rushden & Diamonds cease to exist and Portsmouth on their deathbed, only to be miraculously saved on the twelfth hour. Talks of increasing awareness for depression in football is increasing, especially for retired players who struggle to come to terms with a significantly smaller income. At the same time, we have clubs like Aston Villa and Ipswich who have carbon-neutral stadiums. The Football Association even got involved, asking Nike to make an England's world cup kit from recycled plastic bottles.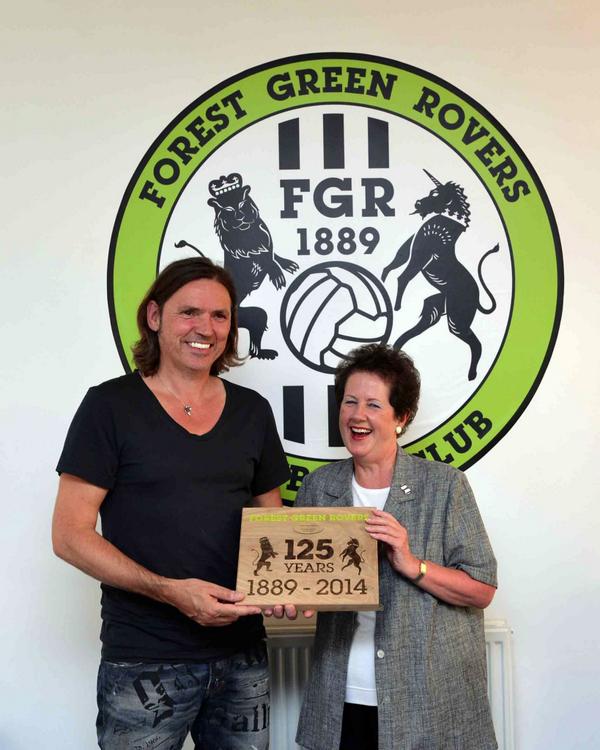 To be a sustainable business in football is important to some, and not to others. It's important to the governing bodies of the sport, who have introduced the financial fair play measure, not only to restrict billionaire owners from buying the game, but also to protect clubs from overspending and facing dire consequences. To be a 'green' club within sport seems to be low on the list of priorities, as supporting a football team is not like facing a product dilemma, most of us are stuck with one team for life. There are still bragging rights to be earned from being an environmentally sustainable football club, but for some owners, it's more about the message than the response. Take Forest Green Rovers owner Dale Vince, for example.
Magnificent Mr Vince
The Independent dubbed him 'The £100m Hippy', an ex-New Age traveller with a renewable-energy empire worthy of causing great envy. Straggly hair, an earring and an advocate of vegetarianism, Dale Vince, founder of ecotricity, is not your typical Chief Executive. He's also not your typical football club owner, but Vince bought his local team, Forest Green Rovers back in October, 2010. The team, based in Stroud, Gloucestershire, play in the English Conference and are just one promotion shy of the football league. Not keen to mimic Manchester City and Chelsea, Vince has been sustainable with his investment, and has made a whole host of impressive changes that assert Forest Green Rovers as 'the greenest football club in the world'.
Dale Vince is a man of principle, so when Bernard Matthews invited him to install wind turbines on his Turkey farm, he not only declined, but stated 'It's a concentration camp. I don't want to be involved in that'. Vince has carried these principles into his new venture and fitted The New Lawn, Rover's stadium, with all of the environmental considerations that he could. The stadium now boasts low-energy LED floodlights, a solar-powered lawnmower also used by Bayern Munich (adorably nicknamed MowBot, see pic) and an organically grown grass pitch.


Rainwater is collected to help moisten the pitch during dry weather, but plans to include the use of water from the stadium roof and by making a borehole are being worked on. The intention is to use a mixture of rain, drain and spring sources to allow independence from the mains water. The club even recycle all of their waste cooking oil into a biofuel. Vince's sustainable business practise meant that he kept the manager on when he joined, something that doesn't happen enough nowadays. He had set out a long term plan for then manager Dave Hockaday, saying 'I want Dave to have the kind of longevity that Sir Alex has at Manchester United'. Sadly Forest Green Rovers lost Hockaday to a big offer from Championship giants Leeds United, 3 divisions above them.
Sustainable transitions
The move from energy to football received complaints, with ecotricity customers dumbfounded as to why their bill was being spent on sport. Vince is a clever man, and applies logic to his business manoeuvres and often when complaints come in, they hold no weight. He explained to those unhappy with his football venture that he is spreading a message of Eco-values and encouraging people to take responsibility now. In response to a series of complaints about stopping the club's players from eating meat and installing new wind turbines, Vince made this brilliant statement:
'I do have sympathy and I listen and I talk. But we make no apology for what we do because one day people will look back and say, what the hell were you doing when resources were running out and climate change was out of control? This truly is the live now, pay later generation. The children will carry the can.'
The football club recycles all match-day waste, including plastic bottles, paper and cans. Although the menu is meat-free and the players are too, Vince says that it's OK for fans to bring ham sandwiches into the stadium if they wish. He looks after players and fans alike within his environmentally friendly approach, benefited by a gift from Nissan.


They provided a fleet of 11 Nissan Leafs, a 100% electric car to help the club cut down on CO2 emissions. With the club's players dispersed all over the west country, it was important to ensure that they travelled in an ozone-friendly manner, and that has been helped by the The New Lawn stadium joining the electric highway, installing electric car charging ports. These ports are free to use and are powered by energy derived from solar power and wind turbines, and can re-charge the Leaf in under an hour. The stadium boasts solar panels on the roof of one stand, producing a fair amount of free and renewable electricity, something Vince is more than familiar with.
Groundbreaking Green Progress
Making progress in the field of environmental concerns has reaped surprising rewards for Rovers, who a few seasons ago became the first non-league side to strike a kit deal with Adidas. The sportswear giant no longer have the deal, as it is now Puma who lead Vince's team into their 125th anniversary year. He said "Working with Puma has already been a great experience for us, they gave us the flexibility to design ourselves a completely original home strip and an away strip that is a nod to the past combined with a modern twist." The Puma deal was also a positive response to the Eco-values, with Puma marketing director Ruth How saying "Forest Green Rovers are a club that share our core business values of sustainability. It is important for us to partner with clubs that operate with the same integrity off the pitch as they do on it, and we look forward to working with Forest Green to create great kits moving forward."
In a sport dominated by form and results, the impetus is 'now, now, now', but Vince has outlined a long term policy that will not just affect Forest Green Rovers and Football, but also the wider world of sport and beyond. The club are taking part in the Eco-Management and Audit Scheme (EMAS), designed by the European Commission to accredit organisations with a valuable environmental performance. It is hoped that a behavioural change in sport will occur in the long run from the steps they are making.
For now, there's only one thing left to say.
Come on Rovers!