In 2000, the largest private real estate development in history began. Spanning 1,500 acres of land on South Korea's west coast, Songdo was built as part of former President Lee Myung-bak's mission to sustainably develop parts of South Korea. Myung-bak thought that 'smart' developments would create a successful avenue for growth in the 'world's smartest country'.
This article will cover Songdo's innovative 'truck-free' waste management system, sustainable population growth and attracting residents, and the real threat that poor planning could make Songdo into a ghost town.
Waste Management
Songdo operates a waste management system unlike any other. The city was built with waste in mind, treating it as a positive resource rather than a problem. All buildings are fitted with pressurized chutes which suck waste down to a central depository. In this area, waste is automatically sorted and recycled appropriately.

Some valuable materials are moved on for reprocessing, others are incinerated to provide energy for the city (or will be, when this system is completed). According to the Korea Herald, Songdo's recycling rate is 76.3%, an incredibly high rate, bettered only by a handful of dedicated eco-cities, like San Francisco and Los Angeles.
Waste water is treated and recycled efficiently, with grey water, rather than clean water being directed to toilets.
Using vacuum chutes for recyclable waste is not a new invention, but it is certainly the first time that it has been implemented for a city wide project. You should not be surprised to find pressurised chutes becoming increasingly popular in new developments in future.
Sustainable Population Growth
Building a new city means building new solutions for new problems. No developer would expect the city to go off without a hitch.

For Songdo, the largest social issue is that the city is quiet. Songdo is massively underpopulated when compared to predictions made in the past. Currently, only 20% of commercial office space is occupied. Office space is so cheap in Songdo that whilst parts of the city were being built, the construction teams were renting out whole floors of buildings and living in groups of fifty-plus, paying the equivalent of less than 5p a day each!
To encourage more businesses and ventures to relocate to Songdo, the city offers tax breaks and subsidized office rent for businesses of a certain size. Because of the migration of skilled workers to Songdo, one drawing point for businesses coming here is that there is a young, intelligent and hard working task force at their disposal. Those who have already moved to Songdo are seen as opportunist and ambitious. It's unknown as to whether the unemployment rate is high or low in Songdo, but one can imagine that it could go either way.
If Songdo were to fill overnight, moving into all the vacant homes and occupying all of the empty offices, well, picture a version of hell on earth, that would be close. It would be total chaos, unsustainable and cause major problems. It's hard to say to the developers who had anticipated a larger population right now that actually, this slow growth is a good thing. They will be able to work out faults and issues at a more reasonable pace than if the city became full overnight.


There are many opportunities for Songdo to be an international business centre, which is why they are currently building four universities! There are campuses for the University of New York, Stony Brook, George Mason University and the University of Utah. It is believed that by building renowned universities, Songdo can attract a community of intelligent and internationally diverse people.
New Residents
Despite being 'quiet', Songdo has attracted some very interesting developments, such as the LOTTE Shopping Town, the Sheraton Incheon Hotel, Central Park, IFEZ Songdo Arts Centre, Jack Nicklaus Golf Club, Songdo Convensia Centre, Gateway Centre and the International Business Square.
Residents and visitors in Songdo are treated to some of the most people and environmentally friendly road and pedestrian technology in the world. There are temperature sensors to warn if the day is too hot, traffic flow sensors to warn about any potential congestion and electric charging stations all over for drivers of electric cars.
The 'half-full' city is doing well to attract investment, but has been criticized for one major flaw, poor transport links to Seoul, Korea's capital, the home of 10 million people and just 40km away. It's also very expensive to up and move a whole business to another part of a country, relocating all the staff and logistics. Because of this, Songdo places an extra emphasis on attracting small businesses and startups.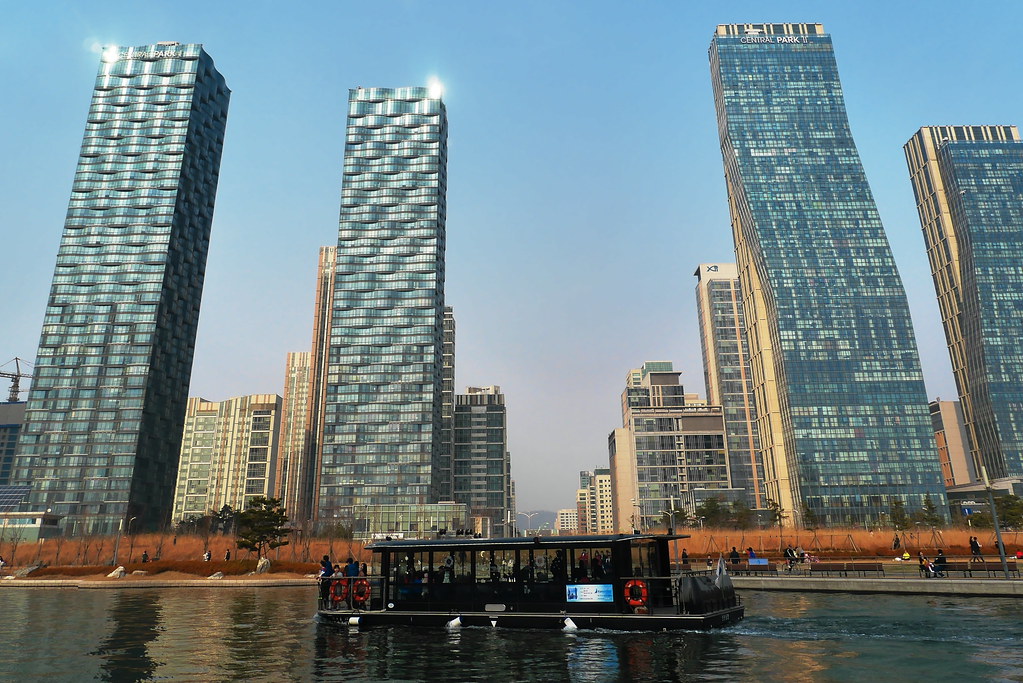 Over £5 billion alone was spent just designing and constructing the 100 main buildings in the business district, including Songdo's tallest building, the Northeast Asia Trade Tower. It has been said that Songdo may succeed in its life as a sustainable city because of the advantage of being purpose built, rather than adapted to fit a specification. Songdo must be careful though, it's not so long since China built new cities and they were a total disaster. The new city of Ordos is a great example; streets, buildings and shopping centres lay empty and abandoned, with a city vacancy rate of just 15%.
China built Ordos in correlation to a growth boom that the country was experiencing. What they didn't plan for the was the chance that people might not want to relocate, and that was part of the issue for Ordos. It's ironic in a city that has buildings, streets, statues and a central square in memory of Genghis Khan, the leader of the largest empire in human history, that the same buildings and streets are without people.
The problem for Ordos was speculation, it was once farming land, only for a huge amount of coal to be discovered there. The farmers sold the land and became rich, international development began, the farmers invested their compensation into the growth of Ordos. They built a whole city without the demand, there were no golden hordes of people looking to settle there. Now, the farmers are poor again, their investments backfired, and whole rows of beautiful apartment buildings lay as sleeping giants on the off chance that China booms again.
This fate could happen to Songdo, but it would be unwise to predict it. Songdo's sustainable growth has been planned well, and although slower than expected, has still been planned. Songdo was not the work of speculation, but the work of demand and growth in the nation with the world's highest average IQ. Songdo is a 'smart' city, and the enormous product of 'smart' people.