We wouldn't be Plastic Experts if we didn't keep up to date with movements and changes within the industry.
However, that information wouldn't be of much use if we kept it to ourselves, so we thought we'd give you a quick update on a few things going on.
Oil is still cheap
With oil prices still quite low, the plastic recycling industry is suffering. This is because it becomes cheaper to make products with virgin plastic than recycled plastic. Both the plastic market and the oil market are fairly volatile, so this is just a temporary situation! The paper recycling market is also suffering, with the reduction in newspaper readership and the rise in digital media. This year we have seen both Aylesford Newsprint and Tulliss Russell Papermakers go into administration, with a loss of 233 and 325 jobs lost respectively.


The struggle is real
It's a bit concerning that Closed Loop Recycling, the UK's largest plastic recycling business is facing administration if the industry or government don't step in to save them. The bigger they come, the harder they fall, and being a big business in this industry is no walk in the park. CLR provide more than 80% of the recycled plastic used in UK milk bottles. While oil remains 'cheap' (supposedly 40% lower than usual), they will continue to suffer.
Fortunately, although not a solution, the Environmental Services Association is working hard and talking to those involved in the recycling markets to open up a dialogue. It is hoped that industry collaborations and teamwork may make financial support unnecessary and could combat the 'downward trends'.


Jakob Rindegren, ESA's Recycling Policy Adviser stated "While some of the causes, such as the drop in oil price and the fall in newspaper readership, are clearly difficult to tackle, we want to bring together stakeholders from across the whole of the supply chain to discuss what can be done, both immediately and in the longer term"
"In our view, everyone needs to work more closely with each other to ensure that all recyclable waste we collect also has a viable end market.
"This is absolutely critical if we truly want to treat waste as a resource, which is clearly important for creating a sustainable domestic resource industry, maximising value for local authority recycling services and meeting our recycling targets.
Wales to be the testing ground again
As it's considerably smaller and easier to measure than England, Wales is often the testing ground for recycling and environmental policies. This is to be true again as Wales will test a new Environment Bill that involves the separation of waste for recycling in schools, hospitals and businesses.
Welsh ministers are keen to further improve on the 38% business recycling rates, acknowledging that the increased manpower should result in a higher turnaround of materials.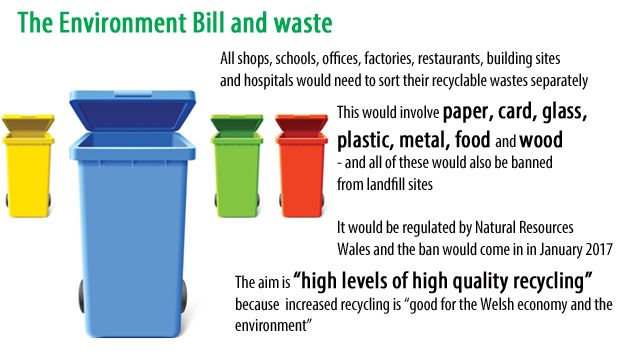 The Environment Bill for Wales will also include an extra charge on 'Bags for Life' and a ban on food waste ending up in sewers, to prevent 'Fatbergs'.
PVC is on the rise
You know that strange things are happening in the plastic recycling industry when there is positive news about PVC. It's a notorious plastic to recycle, mostly because of its chloride content and its limited re-use. That seems to be the old rhetoric because PVC is increasing in popularity, especially in the UK, which contributed 20% of EU PVC recycling, which is over 95,000 of the 474,411 tones recycled last year.


Jane Gardner, Project Manager at Axion Consulting said "PVC recycling continues to grow, as revealed by these latest figures, and the UK's achievement is testament to both ongoing commitment from the sector and sustained investment in recycling infrastructure across the country."
"Good quality recycled material can be reused sustainably in so many diverse new products, from construction products such as windows, to flooring and electrical components. Demand from manufacturers is continuing to grow."
Something we have missed? Tweet us @plasticexpertuk, we love to chat!